From RROCA-info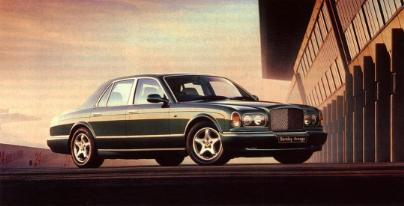 The Bentley Arnage
Could this new Bentley quickly become a rare collector's item?
By Martin Bennett, 1998
The Bentley Arnage was introduced on April 27th, replacing the Brooklands L and Turbo RT saloons which were discontinued late last year.
The most obvious 'first glance' aspect of this new model is that although a differently styled body had been widely predicted, in fact the new Bentley shares the Rolls-Royce Silver Seraph's body shell. As has so often been the case in the past, one quickly gets the feeling that this body shape actually looks better as a Bentley, though of course that's the purely subjective view of a Bentley driver! Another of my subjective opinions is that the styling is very good. The body shell itself is superbly built and is particularly rigid - an essential requirement in achieving the standards of handling and roadholding expected of a fine modem car, as well as providing a ride free of rattles and creaks.
The name Arnage, like Mulsanne, has Le Mans connections, being the name of the series of bends at the end of Mulsanne Straight. This was, of course, the scene of Bentley triumphs in the racing heyday of the marque, and the Arnage was appropriately launched at Le Mans on April 26th, with high-speed demonstration runs on the circuit to show off the new car's mettle.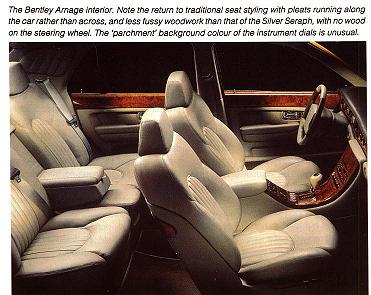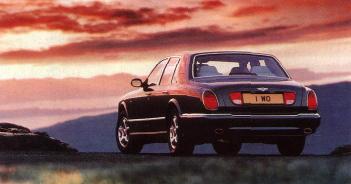 Though they still share the same body shell, for the first time since Rolls-Royce acquired the Bentley marque the two marques have entirely different engines. The new "Bentley" engine, like that of the Silver Seraph, is sourced from BMW, though the similarity ends there. In the case of the Bentley, there is considerably more British input in terms of both development and construction. The engine is a 90 degree all-aluminium V-8 of 4,398 cc capacity (curiously, this is identical to that of the 'W.O. Bentley 4 1/2 Litre), with a Cosworth low inertia twin-turbocharger installation. For an engine of barely two-thirds the capacity of its predecessor it develops very creditable power (350 bhp) and torque (413 lb/ft) with the aid of quad camshafts and four valves per cylinder, as well as the twin turbochargers, intercooling, and an ability to rev to 5,500 rpm. As well as being much smaller than its predecessor, the new "Bentley" engine is some 20% smaller than that of the Silver Seraph, but considerably more powerful.
There can be little doubt that all of this adds up to a very fine package, despite the engine's mixed pedigree, or perhaps because of it. Rob Oldaker, Bentley Arnage Product Development Director, said: "In designing the Bentley Arnage our brief was to create the world's most exhilarating fourdoor driving experience", and that is probably precisely what has been achieved. Unfortunately though, the still unresolved (at the time of writing) Company ownership has cast a cloud over it.

If Volkswagen becomes the new owner of the Rolls-Royce and Bentley motor car marques, as is the latest information, the Arnage in the form described here could be a very short-lived model indeed. BMW's intentions in the event that they are not the successful bidder for Rolls-Royce have been made abundantly clear. No engine supplies. VW's intentions are equally clear: to return to all-British engines in the Crewe cars if they are successful in acquiring the Company. The BMW engines could be the briefest phase in the history of the Rolls-Royce and Bentley marques. This will no doubt mean a revised version of this Bentley, and a 'Silver Seraph U'.
Quite apart from being the last Bentley introduced by the British-owned Company, the Arnage in this form could become a rare collector's item. Might be a good idea to snap one up now.
Photographs Courtesy of Rolls-Royce Motor Company Ltd
---
Bentley Arnage Technical Specifications
Engine

BMW/Cosworth aluminium alloy 90 degree V-8 with twin water-cooled low inertia turbochargers and engine-mounted intercooler. Bore 92 mm, stroke 79 mm, cubic capacity 4,398 cc. Twin overhead camshafts per cylinder bank, 32 valves. Maximum power 350 bhp (260 kW at 5,500 rpm. Maximum torque 413 lb/ft (570 Nm) at 2,500 to 4,200 rpm.

Transmission

ZF five-speed automatic with adaptive gear-shift management. Electronic selection from selector in centre console. ZF final drive.

Suspension

Independent by double wishbones and coil springs front and rear. Computer controlled adaptive hydraulic damping. Automatic height control with automatic load compensation and headlamp levelling. 50150 front/rear weight distribution.

Steering

Power-assisted rack and pinion. Electric steering column rake adjustment linked to driver's seat position memory control with automatic easy entrylexit feature. Turns lock-to-lock, 3 1/2

Brakes

Power boost control system with 4-channel anti-lock braking. Micro-alloy ventilated discs. Hydraulic servo. Pad wear indicator system. Foot apply/hand release parking brake.

Wheels and tyres

17-inch five-spoke aluminium alloy wheels with 255/55R17 Avon or Michelin tyres.

Dimensions

Overall length 17 ft 8.2 in (5,390 mm); wheelbase 10 ft 2.7 in (3,116 mm); width (excluding mirrors) 6 ft 4 in (1,930 mm); height 4 ft 11.6 in (1,515 mm); kerbside weight 5,075 lb (2,302 kg); fuel tank capacity 20.7 gallons (94 litres).

Performance

Acceleration 0-100 km/h, 6.5 seconds; 0-160 km/h, 15.5 seconds. Maximum speed, 240 km/h. Deceleration 100-0 km/h, 3.0 seconds. Fuel consumption, combined urban/highway 16.7 mpg (16.9 litres/100 km).